Trusted Roofing Contractor
Serving Chandler, Arizona
Specializing in Roof Repairs & Roof Replacements
Horn & Sons Roofing & Painting, LLC is a local roofing contractor in Chandler, Arizona providing superior roofing services for residential and commercial customers. Our high-quality roof installation and roof replacement services are unmatched in the Maricopa County area. We also offer related home improvement services, including vinyl siding, pressure washing, and gutter installation. Call (623) 303-2515 for a free roofing quote.
---
Call for a FREE Quote
---
Seniors & Military
Get 5% Off Any Service!
expires 12/31/2023
About Horn & Sons Roofing & Painting, LLC
I'm a third-generation roofer in Chandler proudly a part of my family's business, Horn & Sons Roofing & Painting, LLC. We consistently strive for high-quality work at competitive prices. We specialize in tile roofs and tile roof underlayment repairs and replacements. I am fully licensed (R-42 roofing #334716 | R-62 minor home improvements #334717). Give us a call today for trusted roofing services!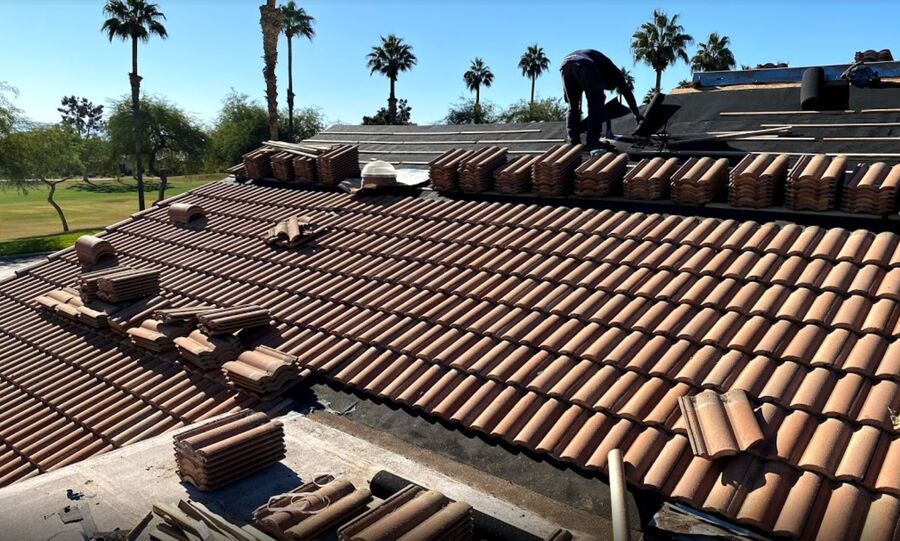 It is vital to have your roof repaired when need be before the problem becomes worse and too overwhelming to manage. Water seepage can cause mold and mildew damage, which becomes not only a structural problem but a health issue as well.
Several types of problems may require you to have your roof repaired, such as:
Damage from ice dams
Damage to shingles from hail, wind, or snowstorms
Damage to flashing, or improperly installed flashing
Leaking around a skylight or chimney
Don't settle for an ordinary roof when you can have one that makes a statement. Horn & Sons Roofing & Painting, LLC has an extensive offering of roofing materials to give your home a unique look. Our experienced roofing designers can help you choose a product, texture, and color that will complement the architecture of your home. Invest in your home with a quality roof that protects your property and adds curb appeal! Call (623) 303-2515 to speak with one of our professional roofers. We have been providing roof installation in the Chandler, AZ area since 2000.
Horn & Sons Roofing & Painting, LLC specializes in tile roof replacement and repairs throughout the Chandler area. Whether you've got a hole in tile your roof and need a repair or you're in need of a whole new tile roof, choose the experts at Horn & Sons Roofing & Painting, LLC for your tile roofing needs. Horn & Sons Roofing & Painting, LLC recommends tile roofs for several reasons:
Single tiles are much easier to replace than other roofing materials
A tile roof can withstand sustained winds of 150 mph
Tiles have natural water-shedding properties
Natural ventilation features reduce the potential for ice dam formation
Tiles are both heavy and strong, for maximum wind resistance and load-bearing
For professional tile roof services, call Horn & Sons Roofing & Painting, LLC.
---
Call for a FREE Quote
---